San Francisco Green Giants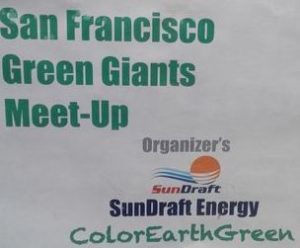 THIS GROUP IS CURRENTLY UNAVAILABLE TO HOST MEETINGS
We moved so San Francisco Green Giants meet up group is no longer hosting events
Anuradha had launched San Francisco Green Giants on meetup.com
San Francisco Green Giants meetup was created for green professionals, manufacturers to collaborate and empower the SF Bay area transitioning to a Sustainable Eco-friendly Healthy Lifestyle.
Our Sustainability Focus Groups in the fields of:
Green Building Materials
Sustainable Transportation Design & Systems
Renewable Energy
Green Products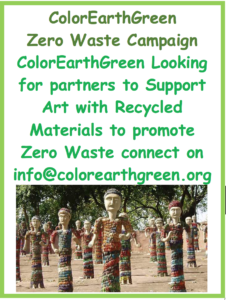 Sustainable Manufacturing Processes
Energy Water Home Management
Social Awareness Gaming
Behavior Sciences
Sustainable Organic Agriculture
Recycling Reusing Products
Non-Toxic Daily Household Items
Naturally Derived Products
Alternative Medicines
Textiles Clothing Other Goods
Environment Climate Change Studies
Archived Meet Up Events
ColorEarthGreen Zero Waste Campaign
ColorEarthGreen Looking for partners to Support Art with Recycled Materials to promote Zero Waste connect on [email protected]
Connect on meetup group San Francisco Green Giants
SUMMER 2016 We Successfully completed 21 Days Sustainable Living Challenge 
Join Us for the 21 Days Sustainable Living Challenge on Facebook or Twitter!
We are kicking off Summer 2017 with making a life change, taking a break from our demanding needs of resources and encouraging habits that promote wellbeing of our planet earth.
We believe in collaborative communication and welcome your feedback and support currently on our challenge pages on Facebook and twitter.
We are in development stage so give us more time to bring you more information and content on our sustainable living challenge.
Not finding what you want? Reach out directly through our Contact Us page.
©2016-2022 Anuradha Munshi All Rights Reserved